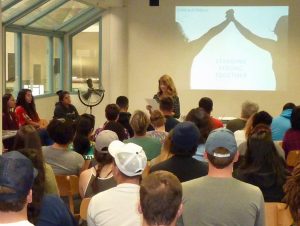 (2017) For the last 3 years, the courageous women on a Santa Cruz, California college campus have dared to speak out publicly about their sexual and physical assaults. For many of these women, they spent years suffering in silence, and this was the first time they had ever shared their story. Some had been carrying this heavy burden since childhood.
Like so many women, the reason they were afraid to speak out was because they felt self-blame and shame – for the violence someone else committed against them. But these women dared to come forward not just to speak of their trauma, but to focus on how they have tried to heal and move forward. They do this not just for their own healing, but for others who may be still be carrying this burden in silence, to let them know they are not alone, and to offer hope.
They create a solidarity, a sisterhood, standing together to take their power back. Join them as they speak out to make a difference on their campus and in their community.